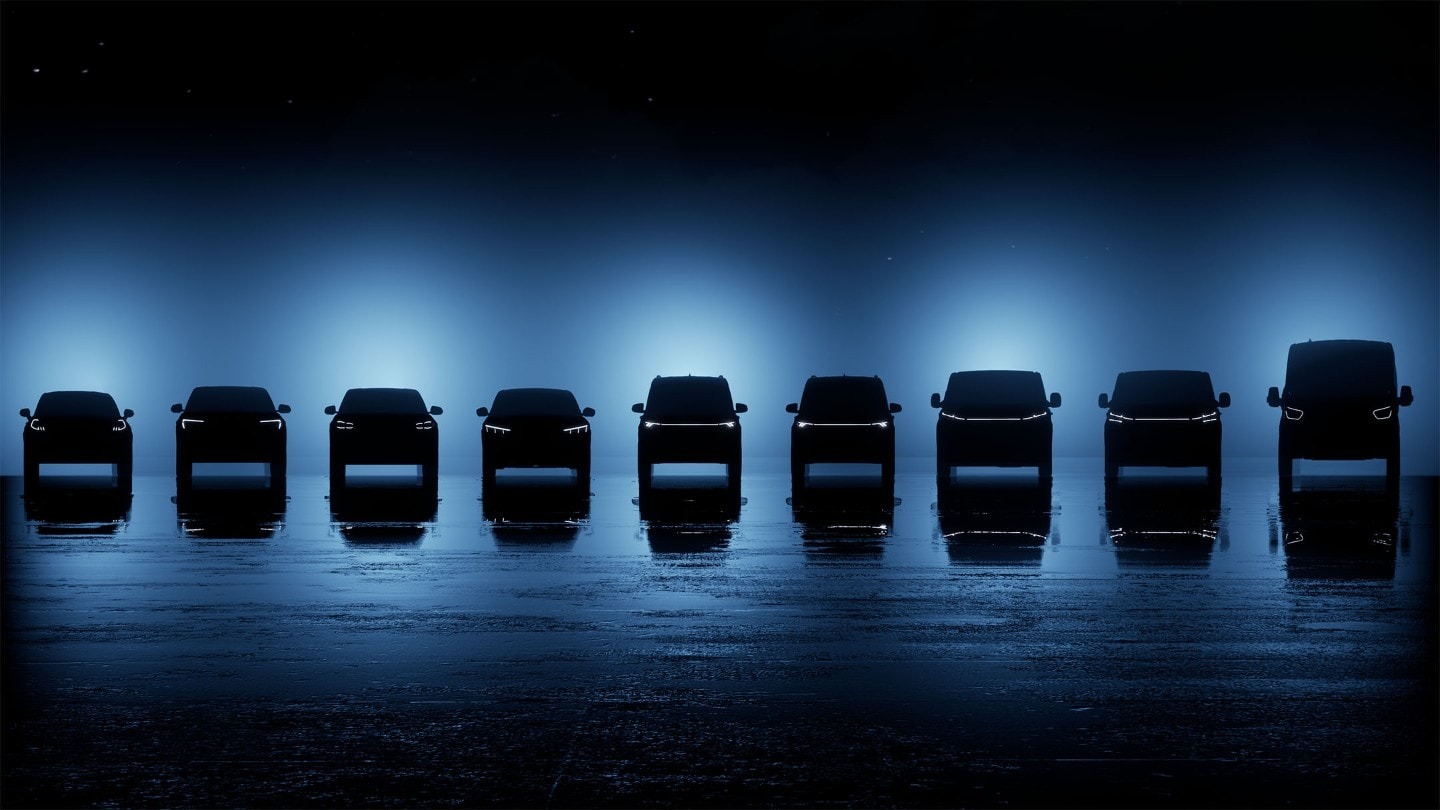 SAY HELLO TO 7 NEW CONNECTED VEHICLES THAT WILL HELP PAVE THE WAY TO AN ALL-ELECTRIC FUTURE
Meet the new all-electric cars and vans that will join our line-up for Europe by 2024 – a new generation of vehicles for an all-electric future.
These include a five-seat, medium-sized crossover vehicle – offering a 310 miles driving range – and an electric version of our top-selling passenger vehicle in Europe, the Ford Puma. There will also be a sports crossover.
In 2021, sports utilities and crossovers accounted for 58 per cent of all our passenger vehicles sold in the continent, up nearly 20 percentage points from 2020.
Reaffirming our leadership as Europe's top-selling commercial vehicle brand, our iconic Transit range will include four new electric models.
Leading the way will be an all-new Transit Custom one-tonne van and the Tourneo Custom multi-purpose vehicle. These will be followed by the next generation Transit Courier van and the Tourneo Courier multi-purpose vehicle.
"Our march toward an all-electric future is an absolute necessity for Ford. It is to meet the mobility needs of a transforming Europe that calls out for more innovation and a total commitment to the customer. But it is also about the pressing need for greater care of our planet, which is why we are committing to making a positive contribution to society and reducing emissions in line with the Paris Climate Agreement," said Stuart Rowley, chair, Ford of Europe.
BOLD STEPS TOWARDS AN ALL-ELECTRIC FUTURE
The two new all-electric crossover passenger vehicles will be built at our Cologne Electrification Centre, in Germany, where electric vehicle production will increase to 1.2 million vehicles over a six‑year timeframe. Investment in the new electric passenger vehicles to be built in Cologne is expected to be $2 billion and includes a new battery assembly facility scheduled to start operations in 2024.
Today's announcement will significantly increase the total number of all-electric vehicles in Europe. The all‑electric Mustang Mach-E and its performance sibling the Mustang Mach-E GT are both available now and the E-Transit is coming in the next few months. Annual sales of electric vehicles in Europe are expected to exceed 600,000 units in 2026.
Further news includes a proposed new industry-leading joint venture business in Turkey, set to become one of the largest electric vehicle battery facilities in Europe.
Together these efforts will support Ford's global plans to significantly reduce carbon emissions. We are targeting zero emissions for all vehicle sales and carbon neutrality across our European footprint of facilities, logistics and suppliers by 2035.
"These new Ford electric vehicles signal what is nothing less than the total transformation of our brand in Europe – a complete, new generation of zero-emission vehicles, optimised for a connected world, offering our customers truly outstanding user experiences," said Rowley.
Latest News